I launched my side project Eventie. Yay.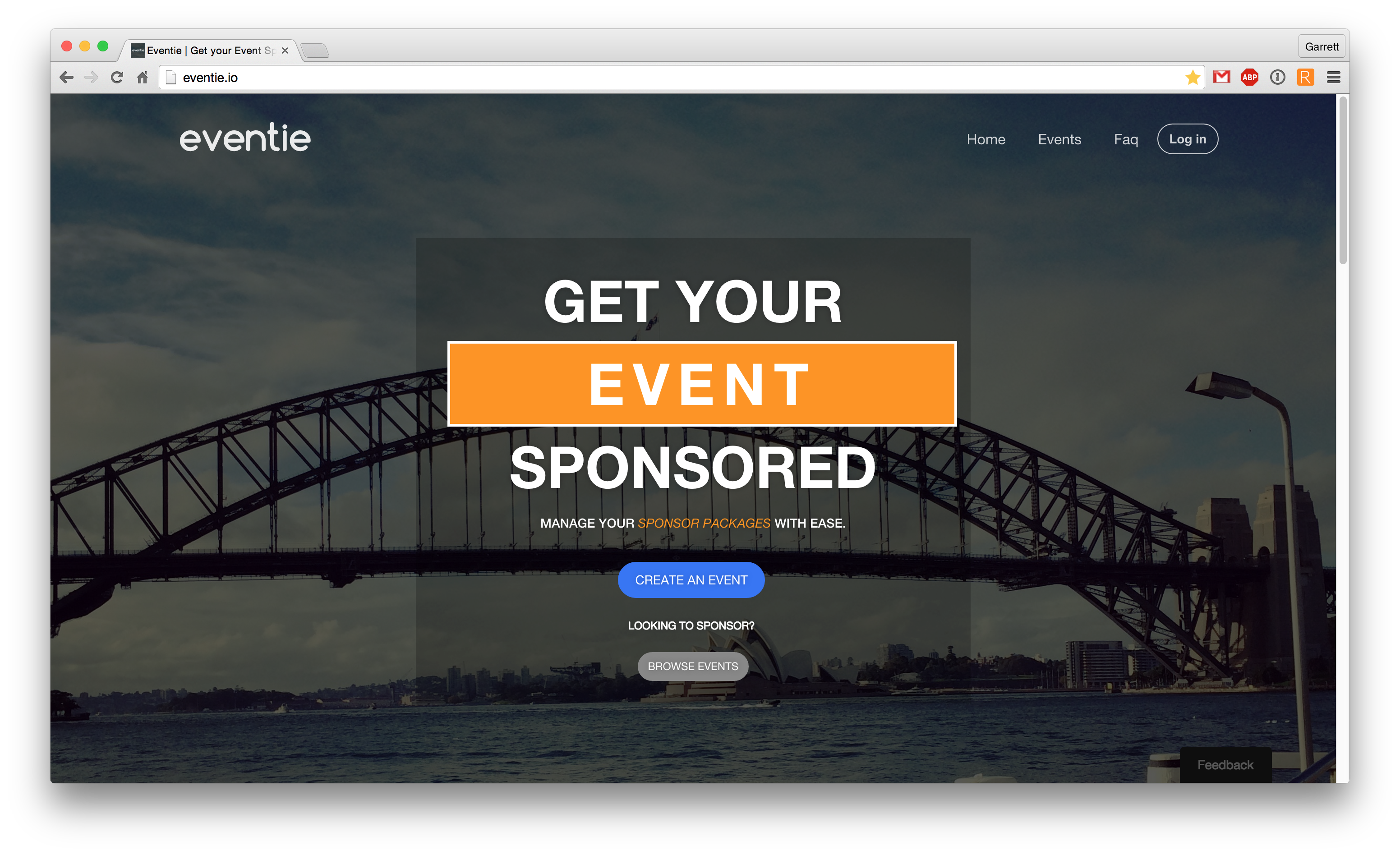 Since I can remember, I have always been working on something in my free time, learning a new language, trying to make a game, building cheesy apps, but I have never actually launched anything. It's quite depressing when you put it into words, but that was the case.
While attending RubyConf 2015 in Melbourne I watched this great talk by Collis from Envato about side projects and start ups - which I highly recommend. This talk really inspired me to finish something.
I had been working on app called Eventie which aims to make getting event sponsorship easier. I previously ran a RubyMotion meetup in Sydney and found it incredibly hard to find sponsors. I have talked to people in similar shoes who have run much bigger events and conferences, so I figured I would try to solve the problem.
Eventie helps event organizers find sponsors. Event organizers can easily create a page for their event highlighting all their sponsor packages. This easily allows potential sponsors to have an overview of the available packages at a glance. Eventie makes it simple for sponsors to register their interest in a particular package tier.
Eventie is built in Rails and I am taking full advantage of the new Trailblazer framework. It's has a fairly minimal feature set and that is fine! It is a very simple application at the moment, but there are many ways where it could grow to become much more.
A few features that I have in mind for the future if things kick off:
Recommend sponsors to big name events
Recommend big name events to sponsors
Allow sponsors to have a taste profile (hiring, selling, karma, etc.) to suggest relevant events that would maximize their investment in sponsoring
Search for events for a particular category (tech (which type of tech event), sports, music, etc.)
Search for events via distance
Sync up with Lanyrd to make it easier to create events for organizers
and many more..
The main thing to take away though is I didn't. I didn't build every possible feature I could think of. I kept it as simple as possible. I wanted to get it out to there and just ship it. It feels really good knowing that I have actually spent the time, despite having to do the boring tedious tasks to get everything ready, I launched a side project.
Mailers, design, css, forgot password, etc., all the things that aren't actually fun, but are needed to make a project complete actually take a lot more time than you would originally think. In my mind, it's the small things that make a site "finished".
The next step is what I'm really interested to explore. The rest. I am a programmer. I am good at actually building the thing, but there are so many other steps it takes to make a successful product. All which I am still trying to figure out. I am playing with Adwords, Reddit ads, Facebook ads, marketing, monetization strategies, but I still have no idea what's going on, and I love it. I think that is the best way to learn.
Until then.